With the help of a dear friend here is the "best of" 2007 in the world of hockey. I must warn you it is not for the un-random hearted. Enjoy.
My Top 5 Pens Moments This Season
#5 - Malkin spoke
English
(not pleased about the Steeler thing...)
#4 - Kris Letang at shootouts

#3 - Sweeping Western Canada
#2 - Crosby's Gordie Howe hat trick
#1 - The Winter Classic! (hopefully!)
Top 5 Pictures of the Year
#5 - Sidney and Mario sock puppets

#4 - Sidney Crosby as the flower girl
#3 - Not Sure What To Call This...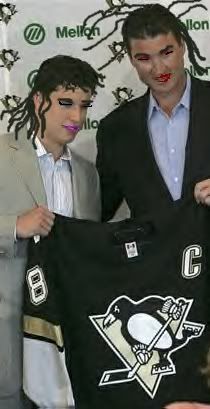 #2 - Evgeni's Tan Line
(Credits to Empty Netters for finding this gem awhile ago - after months in my files I finally get a chance to use it)
#1 - The most disturbing picture I have ever laid eyes on...
Top 5 Things That Won't Change in 2008
#5 - Daniel Briere will still be a 14 year old.
#4 - Bob Errey will still be praising Jordan Staals, "long stick"
#3 - Brooks Orpik will still creep me out by looking like an old classmate of mine.
#1 - Sidney Crosby will still look like he's giving child birth in "on-ice" pictures.
"Why did you do this to me!?"
#3 - Well... we all know the Colby joke. It was brought up numerous times amongst friends this year.
#2 - After being compared to a Seal... This picture claims to be Mario skinny dipping in the Allegheny River.
#1
- Sidney Crosby being called a "Pecker Whistle". It was a complete "WTF" comment from my anti-crosby (boo!) friend that has now become a classic and her permanent nickname.
Pecker Whistle... oh man.
Well, I hope yinz have a SAFE, happy, and a great new year! Remember don't drink and drive... or we'll send Sean Avery and Chris Simon to your house for 3 months!